结婚择日 Marriage Date Selection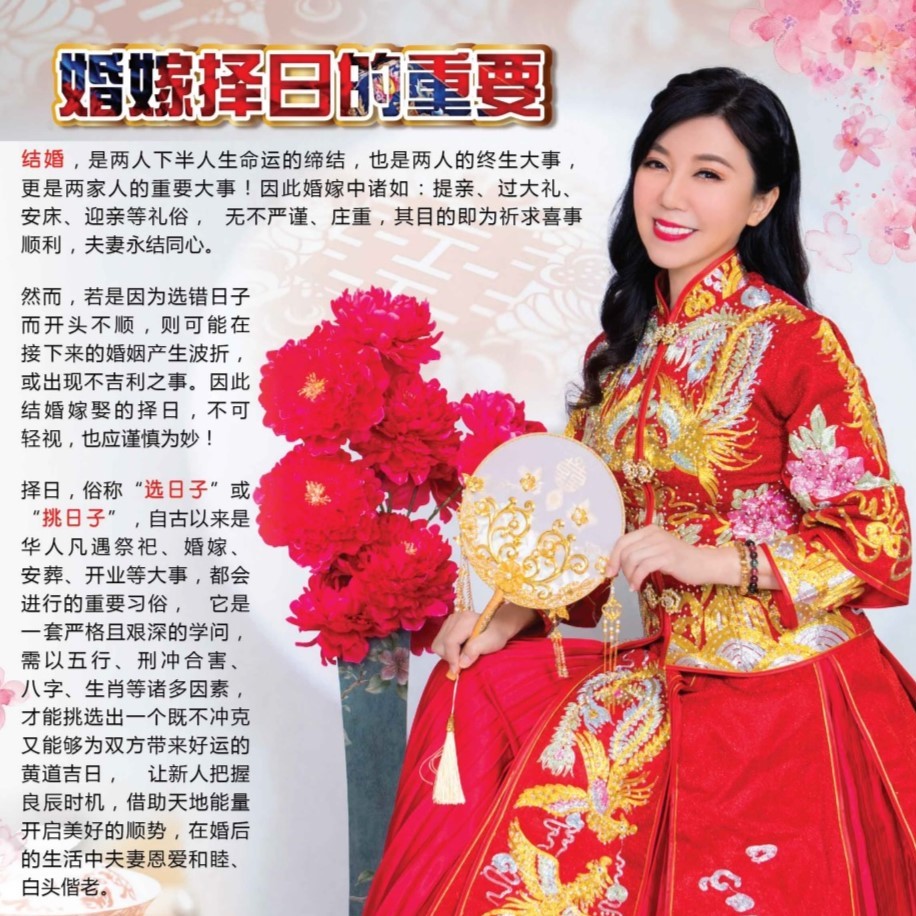 结婚,不仅为美好的婚姻生活掀开序幕,更是两个人后半生命运的缔结,是每个人的终生大事。中国传统婚礼更是需要经过数个流程,如提亲、过大礼、安床、迎亲等礼俗,新人才正式结为夫妻。
而这一些重要礼俗都需要一个良辰吉日的辅助,才能把握时机,借助天地能量让喜事顺利进行,也让一对新人婚后日子顺遂,夫妻恩爱和睦,白头偕老。
福海集团的结婚择日服务,将根据新人的八字以及双方父母的生肖,挑选出最合适的过大礼、安床与结婚之黄道吉日,让新人在最合时宜的日子中,喜结良缘成夫妻,早生贵子喜事多。
Marriage is a significant life event as it's the beginning of a beautiful married life, and the union of two lives. The traditional Chinese weddings need to go through several processes, such as Marriage Proposal, Betrothal, Bed Setting, Marriage, etc., hence the newlyweds are officially married.
Therefore, all of the important etiquettes should be carried out in an auspicious day, in order to seize the opportunity, enable the happy event runs smoothly with the energy from Heaven and Earth. On top of that, the couple's life will go smoothly and affectionate after marriage.
The Marriage Date Selection service of My Feng Shui Holdings will provide the most suitable and auspicious date for the betrothal, bed setting and marriage based on the Bazi (Eight Characters) of the couple as well as their parents' Chinese Horoscope. The couple will have a prosperous life ahead and have their own baby soon if all of the marriage etiquettes carried out in the most suitable day.